sinotruck howo 6x4 dump truck for sale
336HP sinotruck howo 6x4 dump truck for sale
Advantages:
1. Heavy duty truck chassis
2. Reinforced body structure with proven telescopic tipping gear
3. Combination of ride comfort and power
4. Key pressure point reinforced cargo body
5. Robust powertrain can help you tackle any challange at the construction site
6. Stable and reliable under-body tipping device ensures low-gravity hoisting
Product Description

Sinotruck howo 6x4 dump truck for sale
Model

ZZ3257N3647

Driving type: 6x4

Cabin

HW76 lengthened cab, basic equipment: one sleeper, new-style seat, adjustablesafety steering wheel, EURO new type heating & ventilating system; with largesize LCD screen, Germany VDO instrument and electric control block, four points floating air suspension(front coil spring, rear air spring) and shock absorbers forhighway vehicle, four points floating air spring suspension and shock absorbers for off-highway vehicle; transverse stability installation, double locking safety belt and external sun shade for various mode.

Engine

Horse power:

336HP

Displacement:

9.726 (L) liter

Max torque:

1100Nm

Cylinder diameter / stoke:

126mm/130mm

WD615.95E diesel engine, EURO 2 emission standard. 6 cylinder in-line with water cooling, turbo-charging & inter-cooling. 4 stroke direct injection diesel engine. Compression ratio: 17:1. Full load fuel consumption: 193g/kwh; Rated revolution: 2200RPM. Engine net weight: 850KG

Gear box

Model:

HW15710

Speed:

10drive, 2reverse. Max torque:1390NM

HW19710 SINOTRUK 10 speed manual type transmission, the first shift gear ratio: 14.28, small ratio grade difference and big first shift ratio produce an excellent performance on start up Gear ratio:1=14.28, 2=10.62, 3=7, 4=5.87, 5=4.38, 6=3.27, 7=2.43, 8=1.80, 9=1.34, 10=1, R1=13.91, R2=3.18

Front axle

1

x

HF9, 9 ton axle load, rigid stub axle with double T- cross section and dish /drum brake.

Rear axle

2 x HC16, HC16 heavy casting hub reduction drive axle with super loading ability,




excellent performance on start-up with heavy load and slope climbing.

Steering

8098 power steering, hydraulic steering with power assistance.

Clutch

Single-plate dry coil-spring clutch, diameter 430mm, hydraulically operating with air




assistance.

Brake

Service brake: Dual circuit compressed air brake.

Parking brake: Spring energy, storage air-break brake.

Engine brake: Engine exhausted gas brake.

Tire & Rim

11.00-20; 12.00-20; 11.00R20; 12.00R20;

Overall dimension (mm)

8214x2496x3450(LxWxH)

Dump Box Dimension (mm)

5600/5400X2300X1500(LxWxH)

Total Mass (Kg)

25,000

loading Weight (kg)

12580

Maximum Speed (km/h)

75

Color

White, red, yellow, green, blue

Product Photo: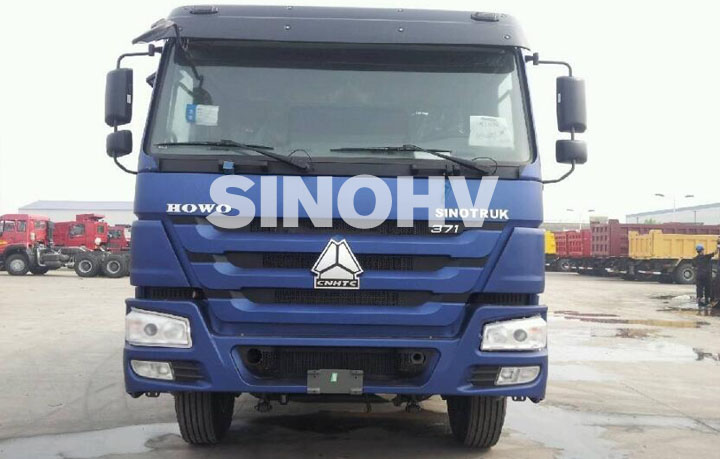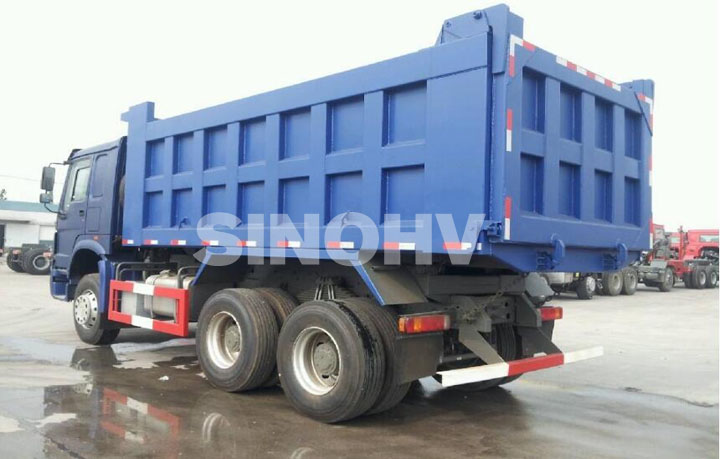 Production line: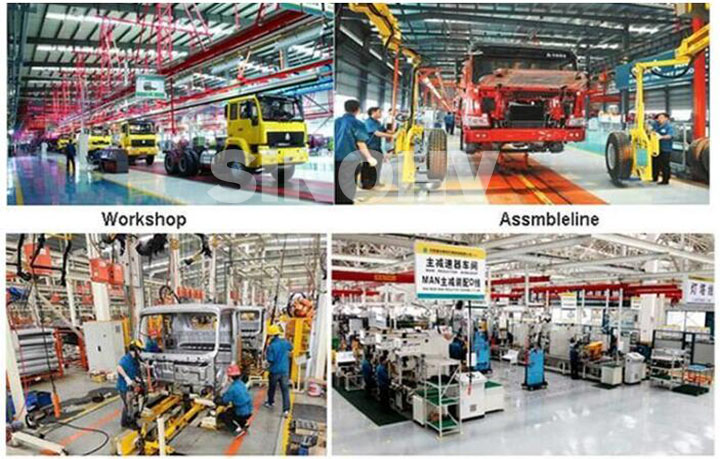 FAQ
1. MOQ: 1 unit
2. Optional payment terms: T/T or L/C
T/T: 30% deposit by T/T, 70% balance should be paid before shippment.
L/C: 30% payment advance, 70% L/C at sight.
3. Delivery time: Within 45 days after receiving 30% deposit of T/T
Why Choose HOWO Dump Truck?


1. Oil Saving--two kinds of technology route (electric control common rail and EGR), engine characteristic performance curve Improvement, entire car optimizing assembly, empty / full load switch, the latest streamline driving cab reducing wind resistance effectively, reducing self weight by 200--500kg, and etc.




2. Safety--drum brake, tubeless tire, exhaust valve brake technique application, rear axle brake shoe widening, and etc.




3. Driving comfort-- New style air bag seat, four point floating suspension with anti-roll bar, damping device for the cab, double locking seat belt, outside sun shade, drum brake solving brake sway in case of over load, and etc




4. Reliability--all the assembly has passed extremely harsh condition experiments and the verification of over 2 years in bad use condition.


5. Low application cost--large use quantity, complete service and accessory networks and low price.

Maintanence Tips
1.Check Check the oil pan, injection pump, oil bath air filter,oil in the power output gearbox, if the oil level rises regularly
2. Check the cooling water level in the tank, if the water is not enough,please add the water to the standard level. When the temperature is below + 5oC,the engine if off work,please discharge the water.(when there is no antifreeze fluid)
3. Check and tighten bolts and nuts out of the engine, excluding oil leaks, water leaks, air leaks.
4. When working in dusty places, remove dust on the air filter. And,replace the air filter when necessary.
5. Clear dirt , dust and oil on the surface of engine.
6. Listening to the voice when diesel engine is running, observing the color of exhausted air, exclude the problem and irregularities found.
7. Replace engine oil,clean oil pan and oil strainer,oil filter tank, repalce the oil in the injection pump, according detailed manual.