SINOTRUK HOWO Four-wheel drive dump truck
SINOTRUK HOWO Four-wheel drive dump truck
Advantages:
1.Competitive Factory Price and Excellent Quality
2.More than 20 years' experience as a manufacturer
3.Products Quality Certification SGS CCC ISO
4.Perfect after-sale service
5.Customized products available with us
6.Export to more than 50 countries and regions
7.Oversea wareshouse with more than 100000 US dollors spare parts in stock
8.Oversea office with more than 15 professional engineers to help local customers
Product Description
SINOTRUK HOWO 6X4 DUMP TRUCK LHD / RHD

Model

ZZ3257M3247

Driving type: 6x4

Cabin

HW70 standard cab / HW76 lengthened cab, basic equipment: no / one sleeper, new-style seat, adjustable safety steering wheel, EURO new type heating & ventilating system; with large size LCD screen, Germany VDO instrument and electric control block, four points floating air suspension(front coil spring, rear air spring) and shock absorbers for highway vehicle,four points floating air spring suspension and shock absorbers for off-highway vehicle;transverse stability installation,double locking safety belt and external sun shade for various mode.

Engine

Horse power:

266HP(196KW)

Displacement:

9.726 (L) liter

Max torque:

1100Nm

Cylinder diameter / stoke:

126mm/130mm

WD615.62 diesel engine, EURO 2 emission standard. 6 cylinder in-line with water cooling, turbo-charging & inter-cooling. 4 stroke direct injection diesel engine. Compression ratio: 17:1. Full load fuel consumption: 193g/kwh; Rated revolution: 2200RPM. Engine net weight: 850KG

Gear box

Model:

HW13710

Speed:

10drive, 2reverse. Max torque:1390NM

HW13710 SINOTRUK 10 speed manual type transmission, the first shift gear ratio: 14.08, small ratio grade difference and big first shift ratio produce an excellent performance on start up Gear ratio:1=14.08, 2=10.47, 3=7.82, 4=5.82, 5=4.35, 6=3.24, 7=2.41, 8=1.80, 9=1.34, 10=1, R1=12.67, R2=2.91

Front axle

1×HF9, 9 ton axle load, rigid stub axle with double T- cross section and dish /drum brake.

Rear axle

2 x HC16 / AC16, HC16 heavy casting hub reduction drive axle with super loading ability, excellent performance on start-up with heavy load and slope climbing. AC16 heavy casting hub reduction drive axle, with super loading ability, excellent performance on start-up with heavy load and slope climbing.

Steering

ZF8098 power steering, hydraulic steering with power assistance.

Clutch

Single-plate dry coil-spring clutch, diameter 430mm, hydraulically operating with air assistance.

Brake

Service brake: Dual circuit compressed air brake.

Parking brake: Spring energy, storage air-break brake.

Engine brake: Engine exhausted gas brake.

Electric Equipment

Operating voltage:

24V negative grounded

Battery voltage:

12V/165Ah,cigar lighter

Tire & Rim

11.00-20; 12.00-20; 11.00R20; 12.00R20; 295/80R22.5; 315/80R22.5

Overall dimension (mm)

7,934 / 7,634 / 7,545 X 2,496 X 3,170 (L X W X H)

Dump Box Dimension (mm)

5,600 X 2,300 X 1,200 / 1,400 / 1,500

Total Mass (Kg)

25,000

Curb Weight (kg)

12,230 / 12,170

Maximum Speed (km/h)

75

Color

White, red, yellow, green, blue.
Product Photo: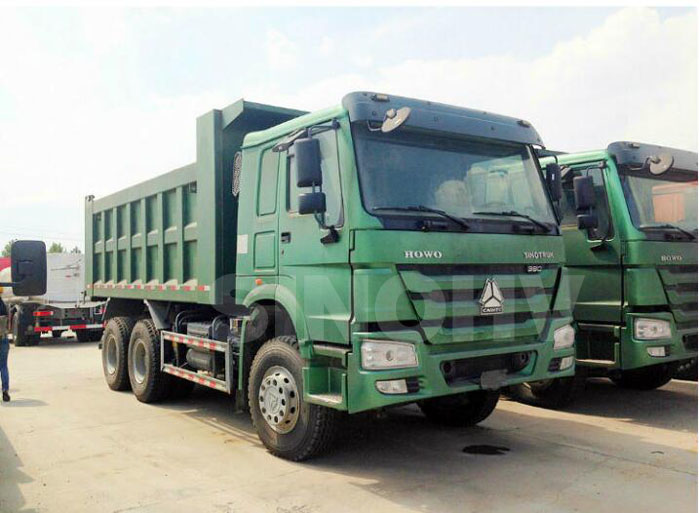 FAQ
1. MOQ: 1 unit
2. Optional payment terms: T/T or L/C
T/T: 30% deposit by T/T, 70% balance should be paid before shippment.
L/C: 30% payment advance, 70% L/C at sight.
3. Delivery time: Within 45 days after receiving 30% deposit of T/T
Warranty
1. One year quality guarantee for three key parts axles, engine, transmission or within 60000km, which comes the first.
2. Other spare part could be supplied by OEM at cost prices.
3. Regularly callback to know the vehicle's working status.
4. The overseas engineers are always ready to deal with unexpected needs.