25 sinotruk howo T5G unmanned electric trucks operate in Tianjin port
On January 17, 2020, 25 sinotruk howo T5G unmanned electric trucks has carried out the world's first whole ship loading operation successfully in Tianjin Port. These trucks were independently researched and developed by China.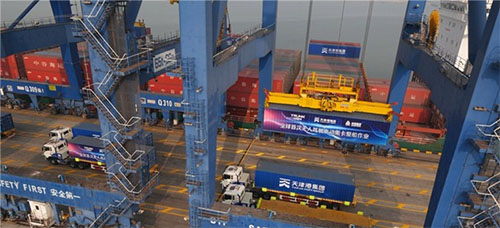 The 25 vehicles electric were all developed and provided by Sinotruk. Sinotruk is the global heavy trucks leader. The factory can produce howo dump truck, howo tractor truck, howo cargo trucks, and many types heavy trucks ,The intelligent self-driving electric truck is based on the HOWO series technology platform, and integrates world-leading innovative technologies such as artificial intelligence, connected cars, cloud computing, new energy and new materials. It is also the first batch production in China. Compared with AGV guided vehicles, it has the advantages of lower cost, smarter, more efficient, and more energy efficient.


The electric vehicle can reach a mileage of 120km at full load, and the charging time is less than 1 hour.
China take the intelligent connected cars as a key development object. The self-driving electric container transport truck take more than one year to complete the test and integrate the new generation of 5G communication technology. Control functions such as automation and coordination . Which have pushed China to lead the world in intelligent driving