Sinotruk 20000 Liters water tanker truck
Product name : Sinotruk 20000 Liters water tanker truck
Product No. : 2018830104448
Price : ZZ1257N4647
Horse power : 380hp
Drive Model : 6x4
Payload : 20t
Cargo Box Size : 20m3
Tires : 1200R22.5
Details:
Sinotruk 20000 Liters water tanker truck

SINOTRUK HOWO 6x4 WATER TANK TRUCK SPECIFICATIONS

Manufacture

Made in 2018 year

CNHTC, China

Cubage

20000L( other capacity for option )


Pump:Water sprinkling truck dedicated pump,




65QSB-50/110,

output 50cbm/h

.pump lift 110m.




High-pressure water gun shoot,gun range 35m




Sprinkling scope:

14-18 m

Weight in kg

Kerb weight (Kg)

12590

Gross vehicle weight (Kg)

3000

Dimension

Dimensions

Length(mm)

10650

Width(mm)

2550

Height(mm)

3650

Wheel base (mm)

4600+1350

Performance

Maximum driving speed (km/h)

92

Fuel consumption (1/100 km)

35

Cab




Model

SINOTRUK

HW76

Lengthen cab

single bunk

,new type seat,adjustable steering wheel,EURO new type heating & ventilating system,German VDO instruments,safety belts, exterior sun visor,stereo radio/cassette recorder,left driving,

air conditioner

Engine

Model

D12.38-40(Euro 4)

Type

6-cylinder in line, 4-stroke, water-cooled, turbo-charged & inter-cooled, direct injection

Horsepower

380hp ( 340hp ,420hp for option )

Maximum output Kw/r/min

247/2200

Maximum torque N.m/r/min

1350/1300-1600

Bore x Stroke

126x130mm

Valve

2

Displacement

9.726L

Make SINOTRUCK (CNHTC), Euro II emission standard, Thermostat with 80ºC opening begin, Rigid fan

Transmission

SINOTRUK

HW19710

transmission ,10 forward and 2 reverse

I II III IV V VI VII VIII IX X

14.28 10.62

7.87 5.88

4.38

3.27

2.43

1.80

1.34

1

R1-13.91 R2-3.18

Clutch

SINOTRUK Φ430 diaphragm-spring clutch,hydraulically operating with air assistance

Steering

ZF8118

Steering Gear Box ,hydraulic steering with power assistance.(

Left hand driving

)

.

Front Axle

SINOTRUK

HF9

Front Axle,new

9-ton

front axles of equipped with drum brakes.

Rear Axles

SINOTRUK

HC16

Heavy reduction drive axle,STR hub-reduction with differential locks between wheels and axles, enforced STR axle,ratio:4.8;The basic configuration of HOWO series construction vehicle can be used in such bad environment as bad road condition, heavy impact and overloading, which is the best choice for heavy construction vehicle customers.

Brake System

Service brake:dual circuit compressed air brake




Parking brake (emergency brake):spring energy,compressed air operating on rear wheels

Wheels & Tyres

Rims:10 hole-steel ;Tyres:

12R22.5 tubeless tyre

with 1 Spare tire.

(

other for option

)

Electrics

Operating voltage:24V,negative grounded




Starter:24V,7.5 Kw




Alternator:3-phase,28V,1500 W




Batteries:2x12 V,165 Ah




horn,headlamps,fog lights,brake lights,indicators and reverse light.

Oil Tank

Square type-

400L

Aluminum alloy fuel tank

OPTIONS
Revolving Light on roof of cab
Upper body
volume: 4000L - 35000L
Sprinkler, sprayer option
Rear operating platform: unequipped
Tires: 12R22.5 , 315/80R22.5 , 13R22.5 tubeless , 12.00R20 radial etc
ABS, EVB engine brake,
SINOTRUK Water Tanker truck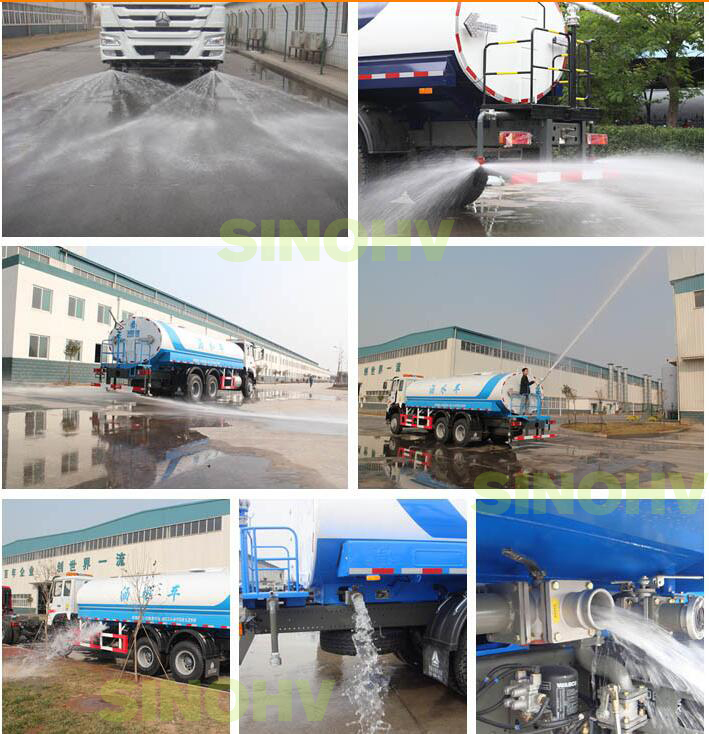 Main Structure and Working Principle





1.Chassis 2.Tanker body 3.PTO&transmission 4.Water system 5.Side protection 6.Rear operating platform 7.Rear bumper 8.Sprayer gun

Tanker Body


The tank body is a metal atmospheric pressure tank body, which mainly has a carbon steel tank and a stainless steel tank, and the carbon steel tank body is treated with anti-corrosion treatment.
The tank has two elliptical and square circles (rectangular arcs). The head is automatically rotated by a CNC rotary machine, which has a beautiful appearance and high strength after molding. The barrel body is made of longitudinal seam butt joints, fully automatic gas shielded welding, and the whole coil is formed after the board is formed. The shape is beautiful and the straightness is good. The barrel and the head are fully welded and butt welded.
The inside of the tank is equipped with a wave-proof plate, and some of the tanks are provided with a longitudinal wave-proof plate to reduce the impact of the liquid in the tank on the head and the barrel.
A sedimentation tank and a sewage outlet are arranged at the bottom of the tank body, and the sewage outlet is opened irregularly according to the situation, and the accumulated dirt in the sedimentation tank is released.


Water system
The waterway system mainly consists of a water pump, a front water spray, a high-spray spray gun, a rear sprinkler, a pressure drain, and a self-flowing drain device.
The working principle as follows